Modern B1 Light Industrial Building with Parking in Chipstead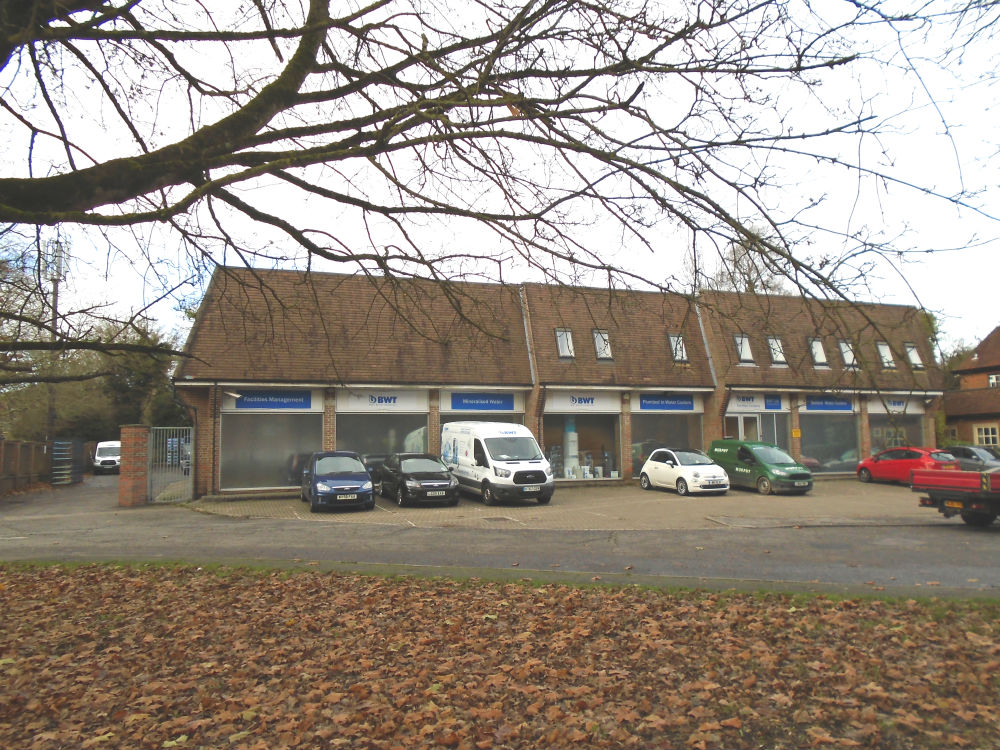 LOCATION
The property is on the outer suburban fringes close to open countryside between Coulsdon, Chipstead and Woodmansterne as Outwood Lane merges with Chipstead Valley Road (B2032). The nearest stations are Chipstead and Coulsdon South. The location is about 6 miles south of Croydon's commercial centre and ten minutes drive from access onto the M23 and M25. The premises (see plan overleaf) occupy a prominent corner site next to the Midday Sun P.H at the junction with Rectory Lane (B278) which has a local shopping parade nearby. They are fronted by a service road with bus shelter (route 166) opposite the water treatment works of SES Water.
DESCRIPTION
Prospect Wells House is a modern detached two storey building, constructed in 1985 as a car showroom when known as Downland Garage. It was then used from about 1985 as a water bottling operation and for the last ten years for storage, distribution and light industrial purposes with ancillary first floor offices by a company making and distributing bottled water coolers.
The building is of brick and block steel frame construction with part tiled and part flat metallic roofing with sky lights. There are dormer windows and sliding aluminium doors to the front elevation. Gas central heating is installed and there are three internal staircases to the first floor which have separate gents and ladies toilets. New drainage was laid in the 1980s. The main warehouse has eaves height of about 16 ft 10 inches with a roller shutter door approx. 12 ft headroom.
ACCOMMODATION
All measurements approximate, the accommodation comprises:
Ground floor
Front works/store & partitioned hall: 17'10" x 34'1" max                       – 593'
Front works/store: 49'10" x max 34'1"                                                      – 1114'
Side entrance hall: 19'9" x 12'10"                                                                – 254'
Back store: 19'7" x 14'7"                                                                              – 284'
Rear store: 19'7" x 13'3"                                                                              – 259'
Front works/store: 28'6" x max 35'                                                            – 1107'
Rear warehouse: 76'6" x max 21'7"                                                            -1634'
Covered enclosure: 76'10" x 18'9"                                                              – 1441'
6686 sq ft
First floor
Storage: 36'2" x 30'11" max                                                                         953 sq ft
Offices: four front offices of 1112 sq ft, and two rear offices,
kitchen & ancillary space of 417 sq ft excluding central corridor,
male & female WCs, server room & two staircases                              1529 sq ft
2482 sq ft
9168 sq ft (851.74m²)
Outside
Parking for eleven vehicles on paved forecourt.
Secure rear yard, part walled & fenced with steel double gates, average 40' wide & 100' deep. Parking for about twenty vehicles & access to covered enclosure/loading area.
RATING
RV £63,000  UBR 49.3 p in the £  2018/2019
Description: warehouse & premises
Reigate & Banstead Borough Council: Tel 01737 276691
PLANNING
Planning consent was granted by Reigate & Banstead Borough Council (01737 276000) under RE98P/199/CU for change of use from garage to B1 (water bottling operation) showroom and ancillary accommodation plus extension to the rear of the premises onto the yard area.
LEASE
The premises are available on a new ten year FRI lease with five year rent review inside the Landlord & Tenant Act 1954 with each side to be responsible for its own legal costs in the transaction.
RENT
 £65,000 per annum exclusive
VIEWING
By arrangement with our office Tel: 01737 245886 (Ref: MS)